WILDRIDGE OUTDOOR FURNITURE
Outdoor furniture is a staple of seasonal luxury. Wooden Patio sets have their authentic charms. However, something to note, the constant maintenance and deterioration of the product is time-consuming and costly. In fact, you may be considering switching out your current set.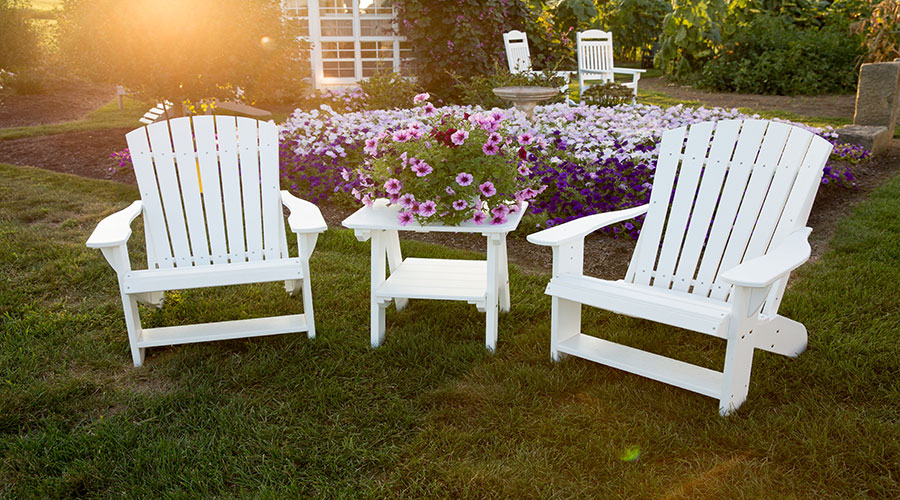 Wildridge has a spectrum of quality products, carrying a variety of colors, all with a sleek design. A key part of their operation? Wildridge furniture creates their furniture with Poly Lumber.
WHAT IS POLY LUMBER?
Poly lumber is composed of recycled plastic and is popularly seen in public parks for outdoor seating. Poly lumber is created using specific plastics like HDPE (High-Density Polyethylene), which is incredibly durable and has INFINITE recyclability. Manufacturers grind the plastic into small flakes, which they then melt and shape into the desired design. Due to its composition, the poly lumber will not crack, split, rot, peel, or chip. Wildridge furniture is easily be wiped down with soap and water, removing debris and mildew buildup. Poly furniture has many benefits, and it can be recycled if you are ready to exchange it for a new set. You will be contributing to the effort of minimizing what goes into a landfill.
Wildridge poly lumber furniture is resistant to the elements, ensuring a longer life for your outdoor patio set. Their furniture is comfortable, affordable, and timeless.
Visit hearthstoveandpatio.com to order your new patio set!